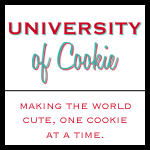 Hey guys!  Just wanted to share some fun news…
started a fun site called University of Cookie a while back and recently asked me to contribute from time to time!
I gladly said yes because anyone who reads Bridget's blog knows she is awesome!
I have reluctantly made my very first video blog (or vlog for those in the know)
on covering cookies with fondant.
It was nerve wracking to say the least, but hopefully with time I will get better with the Flip Cam 😉
University of Cookie is an awesome resource for those just starting out decorating cookies, or "continued education" for those who know a thing or two.
Anyway…go check it out and let me know what you think!
Related